Free Art Activities Schedule for Artfest Kids Kingston ~ All Ages, Drop in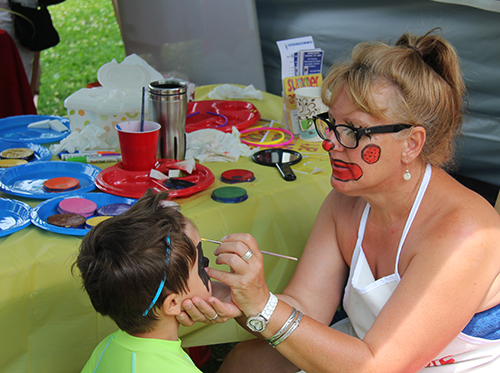 Artfest has fun, creative and educational events planned for – well, you all know the expression – "Kids of All Ages."
Families, get ready. Drop in anytime to a range of activities during this year's three-day Artfest show taking place July 1, 2 and 3rd. Join in our quest to Imagine Canada: Explore our Future.
Children's Tree Art Mosaic
Children at Artfest will work on a collaborative project led by artists Heather Kushum Sheady, Sabrina Parish and Karen Peperkorn. Kids will illustrate individual 4x4 inch art tiles that express their ideas about Imagine Canada. The art tiles will be assembled onto an onsite graphic art installation of 8ft 3-D trees depicting a forest and a healthy future Canada. They will also create props and a river with fish, waterbirds and boats.
80 ft Word Art Chalk Board Mural
* Sponsored by Art Noise
Arthur II, the renowned Mural Artist from Ottawa, will guide visitors to make their Celebrate Canada 150th Word Art marks on the 80ft long x 8ft high surface using brightly-coloured chalks. Visitors will choose one word depicting the future of Canada using decorative word art. Drawings will express what visitors imagine for the future of Canada. On day three, Arthur will add his own large scale word imagery taking inspiration from the content created during the first two days. He will then showcase his own creativity based on the chalk board verbiage that the visitors have left for his creative interpretation.
Drumming Workshop & Performance
A diverse group of drumming styles, including South American and First Nations performers, will be presented all three days of the festival. Hosted by the Kingston Drum Circle, the public is invited to join in and try out a wide variety of drumming techniques. Yessica Rivera Belsham will work with drummers to fashion a NEW drumming rhythm sequence that reflects our festival theme - Imagine Canada: Explore our Future.
Dance
A NEW original choreographed Canadian Footsteps dance piece depicting the diversity of dance cultures across Canada will be created and performed by the Kingston School of Dance in both modern and ballet styles. Visitors will be invited to join in. This dance debut will be performed on Saturday afternoon by the 'all ages' dance troupe and participating visitors.
Face Painting
Get your best face on at the Kingston School of Arts face-painting tent! Get artistic with self-designed butterflies, super heroes, crocodiles, Canadian critters and more. Donations most gratefully accepted.