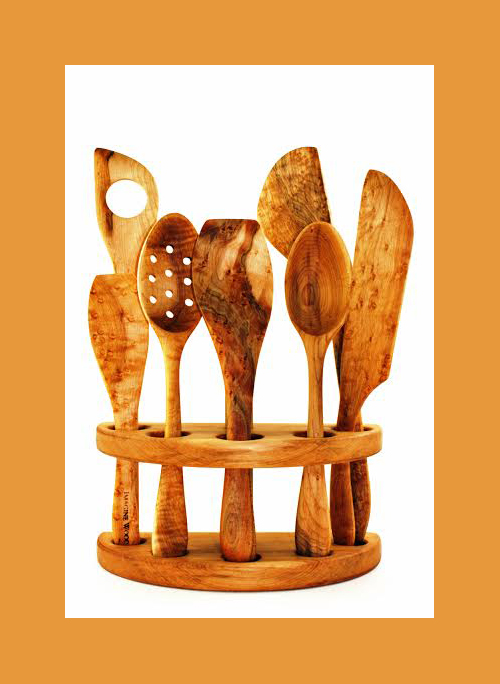 Woodcrafts remain a steadfast and valued favorite at art and craft shows. In fact there has been a major surge of re-engagement in the handcrafted sector in general. With the strain on our environment becoming a daily topic of concern, Canadians are moving away from purchasing mass produced items. The discovery and awareness of the true cost of manufacturing and moving these products around the world has affected great change in our society. Any consumer decision to stop buying a product can ultimately and substantially influence corporate strategies. New trends in the fast food industry's offerings are one example of the marketplace's responsiveness to consumers' willingness to walk away, the revolt against plastic bottles another.
A few years ago, many of us were worried that the crafter's vocation was going to completely die out. A generation of emerging youth has grown up witnessing the strains on our landfills and has chosen craft making as a career, hence the resurgence of the slow craft movement. Colleges have been bursting at the seams in the craft sector, setting a trend for career makers. Etsy, an online platform for artists and artisans to sell their work around the world, facilitated $2.4 billion in handmade craft sales in 2015. As a lifetime crafter myself, it is with a sigh of relief that I see this trend in a major upswing.
Another pressure influencing behavior is the desire to slow down, get off the computer and actually do something with our hands rather than typing on a keyboard. Humans are makers. It has been key to our survival since we inhabited caves. We love working with our hands and the most abundant resource we have in Canada is wood from our forests. Every tree and piece of wood sports "personality" created by its life's story of weather and environmental stress. Spalting, burls, odd shapes, and insects make each piece unique. Woodcrafters love wood and all its anomalies. Unlike many materials in the jewellery sector, wood is affordable.
Artfest has several talented woodcrafting artisans who are making functional and decorative pieces: peppermills, coffee grinders, end-grain cutting boards, gorgeous sculptures, turned bowls, trays, art pieces from reclaimed wood, and much more. These are great items for gift giving, loft and condo decorating, and everyday use.
At Artfest Kingston, you'll find a vast array of wood crafts hand made by Canadian artists. See you all at the show from July 1st - 3rd this Canada Day long weekend!